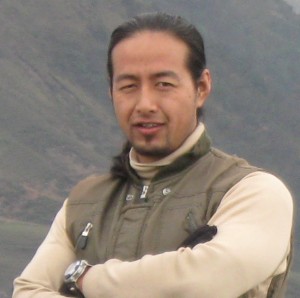 I am a kind of ebullient guy. I like making friends. I don't take life as a bed of Roses. My love for Electronics and Wireless is forever, i would not miss a day without thinking about it. I feel really great while working with Wireless technology and computers. I got stuck with Amateur radio around 7 or 8 years back which was a kind of enlightenment to me as when i found out about Ham radio and its application i was directly in love with it. My Journey till i received the License was not at all straightforward. Living in India it is very hard to obtain a license and the process is very tough. Now my main objective now is to make some more amateur member here in my area, and i am trying to make more people aware of this experiments, so that they get involved in this avocation.
The reason behind getting to make number of people get involved to the information is because it would benefit us in the long run.I would also like to talk about a fact that happened in the year 2011 at Sikkim and surrounding areas . It had become a major news all over India and i hope many of you have heard it in news also. There was a large earthquake of magnitude of 6.9 and had taken the lives of around 111 people. It was in the year that i had qualified my HAM examination but was awaiting my license. I could do nothing as my license had not arrived, it was only during the last three months around June 2013 that i received my license. I would also like to point out the fact that such a huge disaster had taken place and the news was being covered by lots of news channel. You can even read even more here at Wikipedia.
Such a tragedy had occurred but you might be surprised to note that there was not a single HAM on the rescue job, and this was obvious, as no HAM radio operator are in this area and nobody knows what Ham and Amateur radio is all about. It was kind of a case that had pertained in Uttrakhand, but there were lots of HAM radio operators operating there giving support. But i really felt bad myself that even knowing the skills, i was of no use at that point of time. I was in resentment at those point of time. But now i don't want the story to roll over, and now i want to spread the awareness everywhere here, so that something could be done to make this dream a reality, making people of Sikkim, Siliguri and North Bengal to make them aware of Ham Radio.
This is my No. 1 Goal and i know i would make this dream a reality in the coming years to come